Meet Our Dentists
DR. MARIA MORALES ROLLINSON
Dr. Maria Morales Rollinson is an accomplished and experienced Dentist in Thornhill who received her dental degree at New York University. While there, she was selected as an honours student in cosmetic dentistry and had the opportunity to work closely with leading professionals in the field. She received the Robert Sussman award presented to doctors who have demonstrated both clinical excellence in operative dentistry and humanitarian values in patient care.
Before attending New York University, Dr. Morales Rollinson spent two years studying Maxillofacial Surgery in Glasgow and London in the UK. Originally from Venezuela, she first graduated as a Dentist in 2002 from the Santa Maria University.
Dr. Morales Rollinson is committed to continuing education and has completed numerous dental courses including a year long dental implant residency at the University of Toronto. Most recently, she enhanced her skills in this area at the Ti Max Implant Maxi course accredited by the American Academy of Implant dentistry.
Dr. Morales Rollinson is passionate about helping anxious patients manage treatment through sedation dentistry. She also loves treating all members of the family with extensive experience in children's dentistry.
A strong believer in public service, Dr. Morales Rollinson has volunteered in various outreach programs including a 6 month stay in a remote region of the Amazon. When she is not in the office, her interests include cooking, the outdoors, and spending time with her daughter Vera and husband Matt.
Dr. Maria Morales Rollinson is happy to provide service in Spanish.
---
DR. SCHLOSSER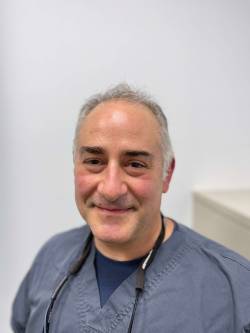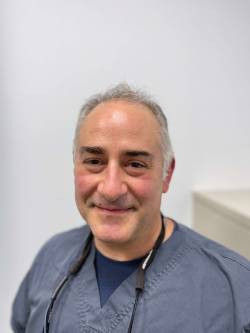 Dr. Robert Schlosser received his BSc. from the University of Toronto in 1989.
Dr. Schlosser completed his DDS at the University of Toronto, Faculty of Dentistry, in 1993.
After Dental School Dr. Schlosser completed a Dental Residency Program in Special Needs Dentistry.
He is currently the Dental Clinic Director at the Toronto Rehabilitation Institute, University Health Network where he treats mainly Medically Compromised Patients.
He was the recipient of the Donald Fraser Dental Award for a University of Toronto, Faculty of Dentistry student that practices the art and science of dentistry with the honorable attributes of Dr. Fraser. Dr. Schlosser has an Academic Appointment at the University of Toronto at the rank of Instructor in the Faculty of Dentistry, where he trains the third year dental students in the dental management of medically compromised patients.
Dr. Schlosser is a member of the Royal College of Dental Surgeons of Ontario, the Ontario Dental Association and the Canadian Association of Hospital Dentists. In his spare time Dr. Schlosser enjoys working out, playing hockey, hiking and spending time with his family.
Dr. Schlosser is available on Tuesdays and Sundays.
---
DR. OHAYON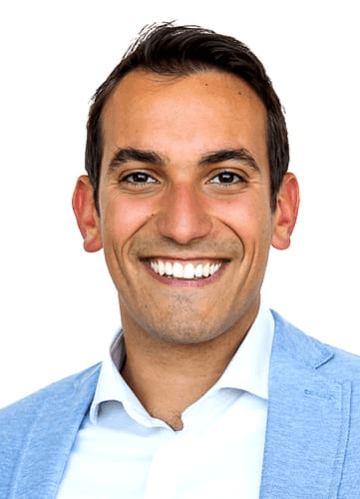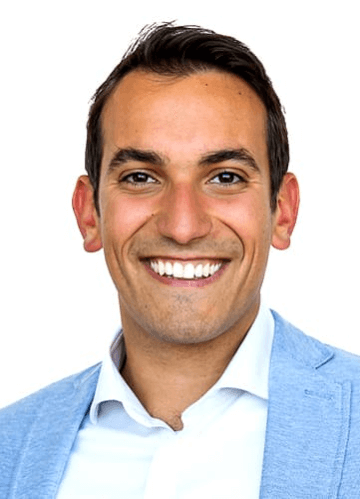 Dr. Adam Ohayon, born and raised in the GTA received his Bachelor of Science, with Honours at York University, majoring in Psychology. Dr. Ohayon decided to pursue a career in Dentistry and was awarded his Doctor of Dental Surgery from the University of Toronto, where he graduated as Class President. Being an advocate of continuing education and advancing his skills, Dr. Ohayon completed a General Practice Residency at Newark Beth Israel Hospital in Newark, NJ where he was inspired to proceed with pursuing his Master of Science and Speciality in the field of Periodontology and Implant Dentistry at the University of Toronto. With his extensive training and experience, Dr. Ohayon has a particular interest in implant dentistry and the management of gum disease and recession as part of efforts to rejuvenate your smile. Emergency Dentistry is also one of Dr. Ohayon's major areas of practice.
Dr. Ohayon's pleasant demeanor and bedside manner often proves to be a valuable asset in putting anxious patients at ease.
In his spare time he has authored books, is very involved in his community and was awarded the Gordon Cressy Student Leadership Award recognizing his efforts. Dr. Ohayon enjoys spending most of his time with his wife and four boys who inspire him to do more every day to help people.
Ask Questions
We will gladly answer any questions you may have.
Ask Questions
Book Online
Rosedale Dental offers the ability to request your dentist appointments online. Schedule an appointment now!
Book Online
New Patient Forms
By filling out the New Patient Forms ahead of time you will save significant time on your visit.
New Patient Forms